Why we must balance Healthy Joy With Meaningful Suffering and How to Solve Chronic Depression, Anxiety, and Pain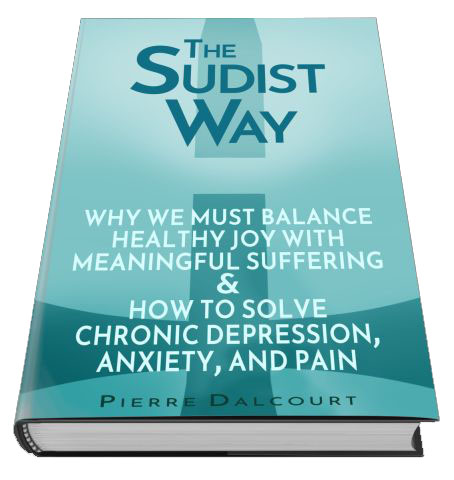 Do you ever wonder why, despite your best efforts, you have not achieved the lasting happiness you long for? Do you suffer from depression, anxiety, irritability, headaches, or chronic pain, or know someone who does? Drawing from over 500 sources, including medical experts, psychologists, and numerous studies, The Sudist Way explores why lasting happiness is always just out of our reach, why many of us struggle with physical and emotional aches, and what we can do differently to achieve the most fulfilling and meaningful life possible.
Gain crucial, evidence-based insights on many aspects of daily life, including:
The hidden dangers of seeking pleasure and happiness at all cost
Why all pleasant experiences fade away, no matter how hard we try to make them last
Why we're often wrong about who is truly happy and who isn't
The heavy price we pay for using painkillers and psychiatric medications
The powerful, hidden connection between pleasure, joy, pain, and suffering
Why the idea of "everything in moderation" is wrong
The root causes of the worldwide obesity epidemic and the best way to solve our weight problems
Why we should willingly take our daily dose of pain and suffering
A comprehensive chart of all pleasant and unpleasant sensations we have the capacity to experience
Powerful, natural lifestyle strategies for beating depression, anxiety, and chronic pain without medication—even if these problems have resisted all other forms of treatment.

Start reading now on Google play Reader, or download the free ebook The Sudist Way directly from here (sudism.org), or at no cost on Google Play, Kobo, and Apple Books below. It is also available for about $1 on Amazon since "free" isn't an option (all proceeds will be donated to mental health organizations).